For iOS14 we have developed the AyeTides Widget. It comes in three sizes and allows you to quickly see the tides at a station of your selection. You can configure multiple widgets and have a different station for each. The sizes below are not to scale.
This is the small widget. It shows the current value, the trend (in this case, a falling tide) and the next event.
This is the medium widget. It also shows the current value and the trend, and it shows the next 3 events.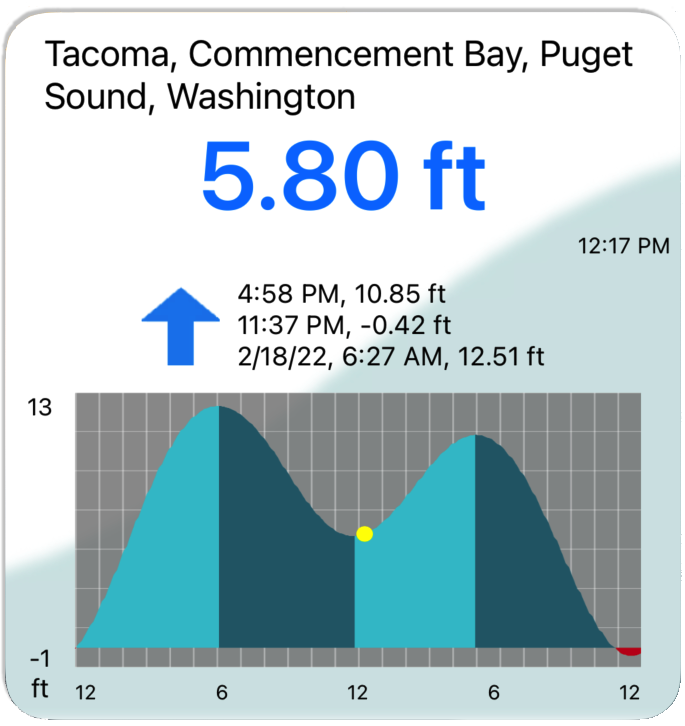 This is the large widget. For this one we've added the graph of the day's tides, along with all the information from the medium-sized widget.

All of the widgets have dark mode versions as well, which reduce the color while enhancing visibility and clarity.
Adding the widget to your screen is easy!
Swipe from the left to the right until you get to the Widgets page. It's the last page to the left.
Click on the Edit button that's at the bottom of the view. Depending on how many widgets you have installed, you may have to swipe down a bit.
Once you tap on Edit, then you can find the Add Widget button at the top. It's the button with a + sign in it.
Select AyeTides from the list of Widget Providers, or search for AyeTides using the search bar.
Swipe across to select the size of widget you want, then click the Add Widget button
Click on the Done button to exit the Add Widget phase
Lastly, click and hold on the new widget, and from the menu select Edit Widget. Click where it says Choose, and select the station.
After you're done configuring the widget, you can tap-and-hold to make it jiggle, and then drag it onto any view on your iPhone or iPad.